What a great day to be an Eagle! Excited to welcome our new teachers at new teacher orientation! Welcome to Mayflower!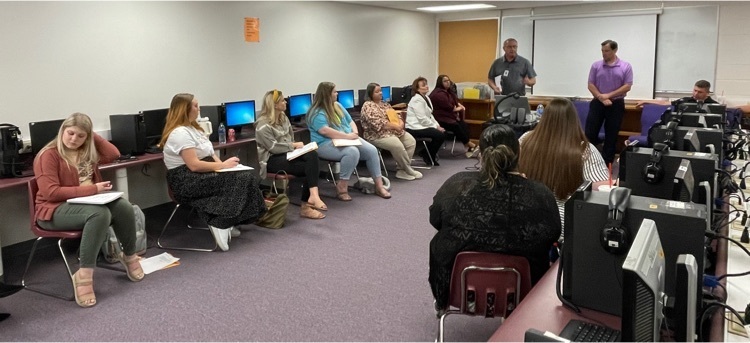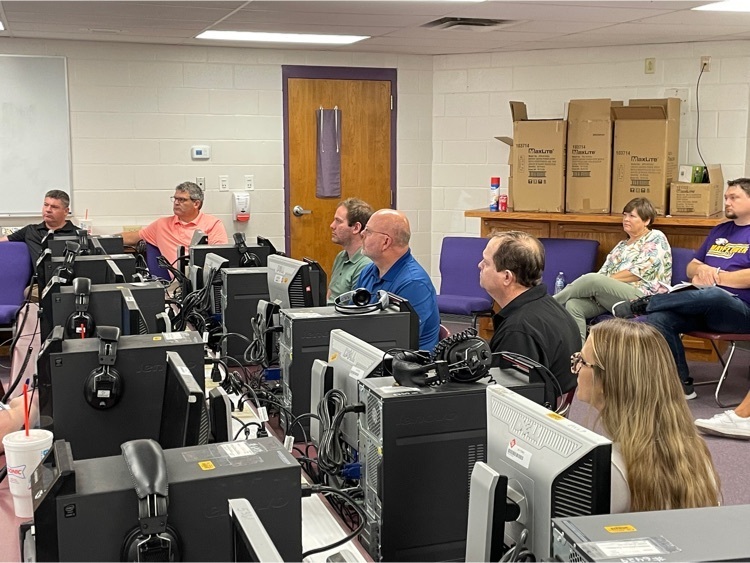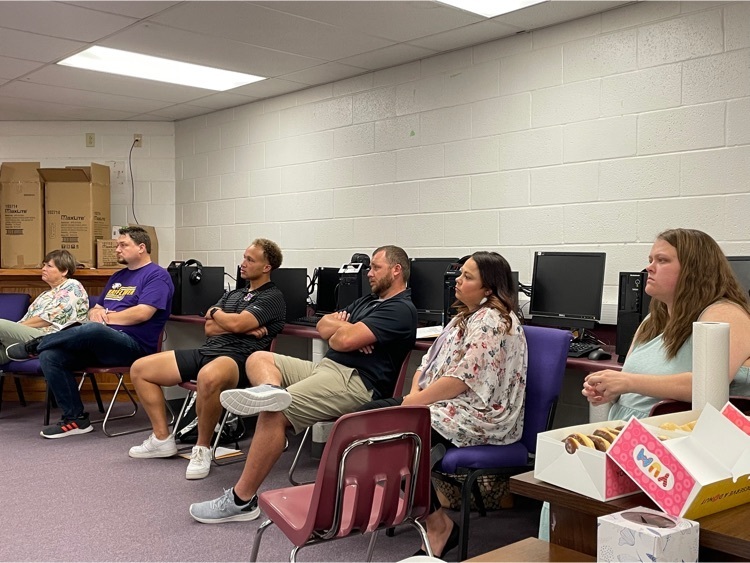 Anyone interested in being a substitute teacher this year, please sign up to attend training on August 10. Who: Anyone interested in substitute teaching this year What: Substitute Teacher Training When: August 10 at 1:00 PM Where: Mayflower Middle School computer lab


Anyone interested in being a substitute teacher this year, please sign up to attend training on August 10th. Who: Anyone interested in substitute teaching this year What: Substitute Teacher Training When: August 10th at 1:00 PM Where: Mayflower Middle School computer lab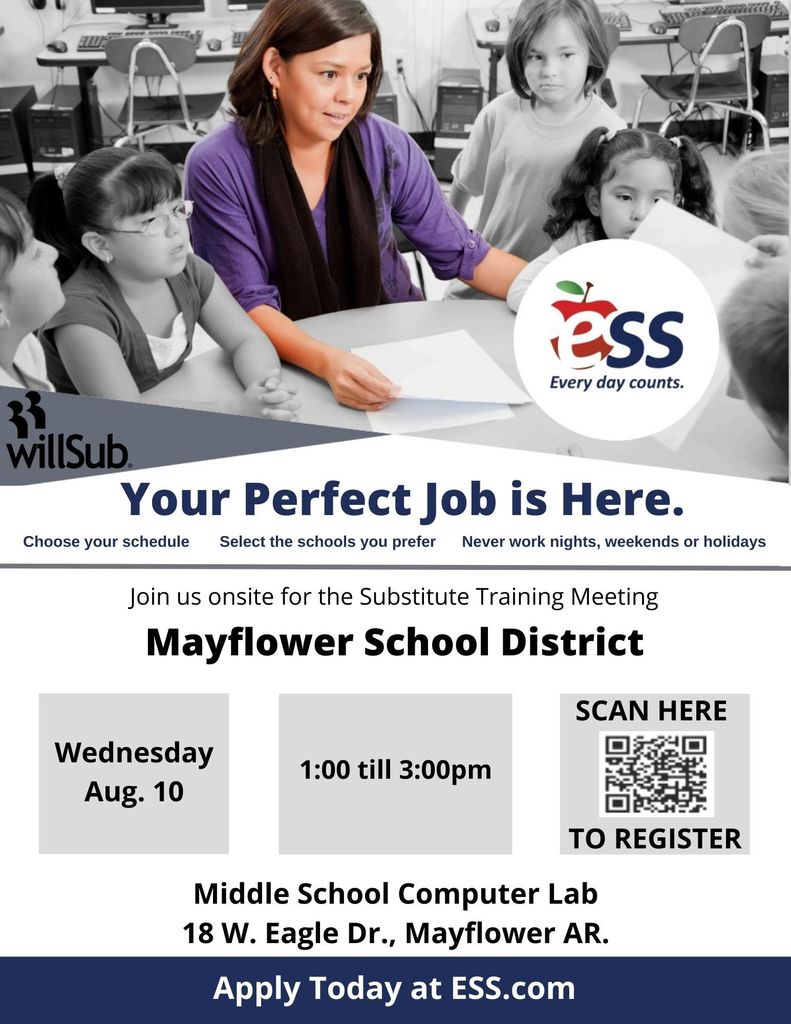 It's that time of year again! Open houses are coming up quickly! All Mayflower Open Houses will be held on Tuesday, August 16th. Mayflower Elementary 4pm-6pm, Mayflower Middle 5pm-7pm, and Mayflower HS 5pm-7pm. Please come join us!

This request for input is being shared with stakeholders from ForwARd Arkansas. ForwARd Arkansas is a nonprofit focused on the state-wide improvement of education in Arkansas. Earlier this summer, Forward launched a new project, in partnership with DESE, called the "State of Education in Arkansas." If you'd be willing, we would love to have your input and voice as a part of this project. Over the next many months, we will be coordinating an extensive effort to gather as much input as possible from district leaders, school leaders, educators, and families across Arkansas. Our plan is that this project will lead to a report that elevates: Where the state has made progress in education over the last 5 years Where we are currently, especially in light of the COVID pandemic Critical education priorities for the next 5 years informed by those in districts, schools, and communities We have launched a brief survey (5 to 7 mins) that is appropriate for any stakeholder. We hope you'll join us in this process. Thanks for your consideration!

Just a reminder that the 2022 Sales Tax Holiday is this weekend! Beginning at 12:01 a.m. on Saturday August 6, 2022, and ending at 11:59 p.m. on Sunday August 7, 2022, the State of Arkansas will hold its sales tax holiday allowing shoppers the opportunity to purchase certain Electronic Devices, School Supplies, School Art Supplies, School Instructional Materials, and Clothing free of state and local sales or use tax. All retailers are required to participate and may not charge tax on items that are legally tax-exempt during the Sales Tax Holiday. For more information, please reference the Arkansas Department of Finance and Administration website at the following link:
https://www.dfa.arkansas.gov/excise-tax/sales-and-use-tax/sales-tax-holiday#:~:text=Beginning%20at%2012%3A01%20a.m.,Instructional%20Materials%2C%20and%20Clothing%20free
Giveaway $100 gas card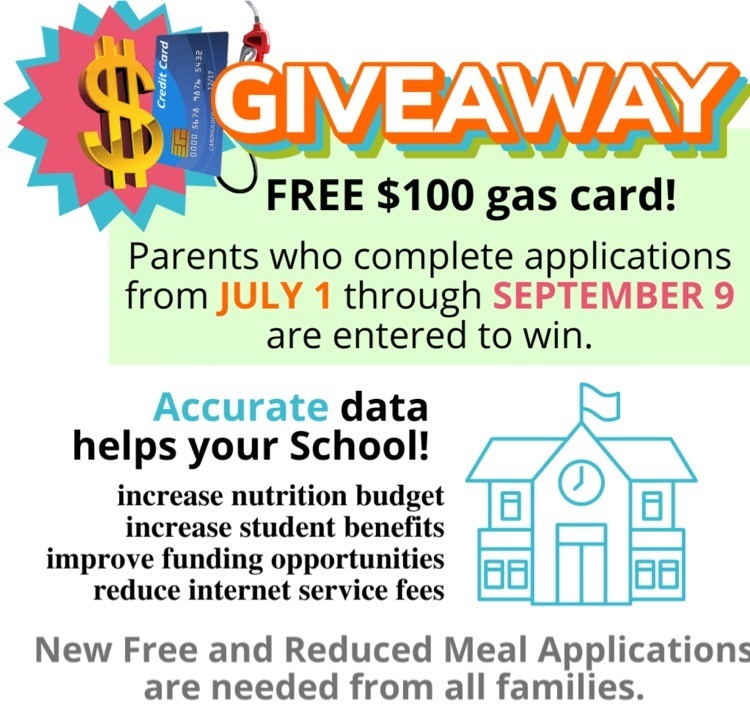 Do you want to be part of our team? Current employment vacancies are listed at the following link:
https://mayflower.tedk12.com/hire/index.aspx
Please submit an online application for any positions you are interested in for an opportunity to join the Mayflower School District team!

What: Substitute Training Who: Anyone interested in substituting in the 2022-23 academic year When: Wednesday, August 10 at 1:00 Where: Mayflower Middle School Computer Lab Please see the attached flyer for additional information. Anyone interested in becoming a substitute, please make plans to attend training on August 10th at 1:00 in the Mayflower Middle School Computer Lab.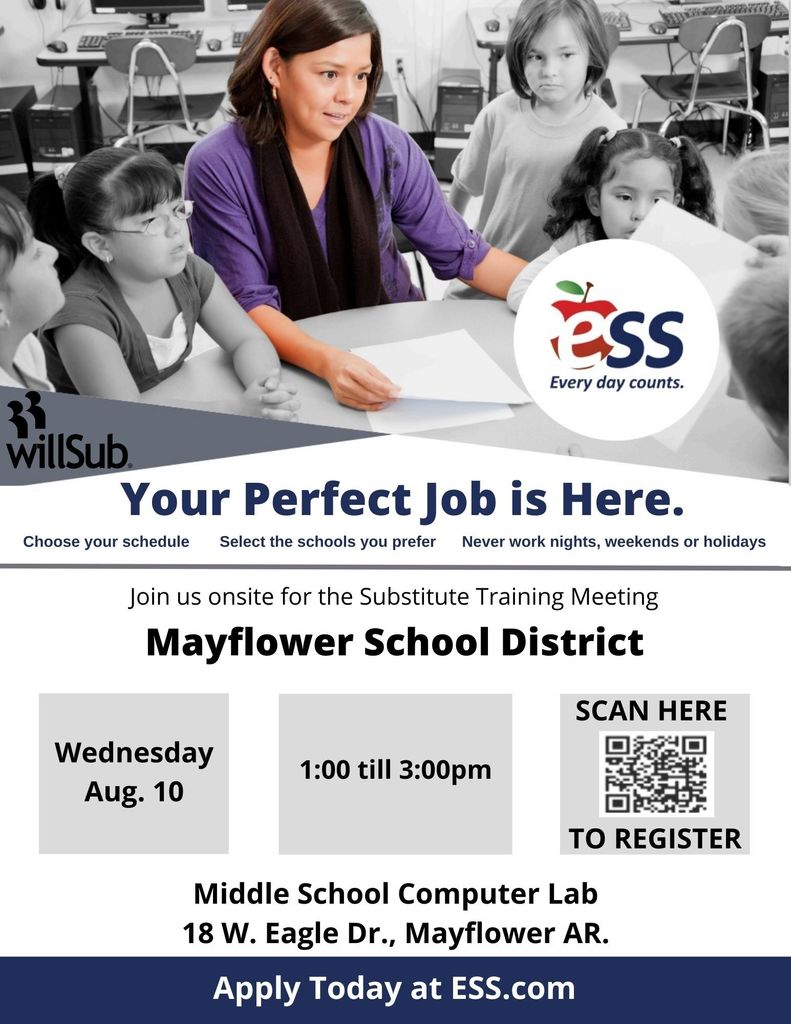 Help stuff the bus at one of these locations!
P-EBT Instructions for Parents 1. Consider whether your student(s) qualifies for P-EBT benefits: a. Does my student free/reduced eligibility status? i. I was approved for free or reduced meal benefits based on approval of a free/reduced meal application OR ii. My child qualifies through direct certification (SNAP eligible) OR iii. My school qualifies for special status through CEP or Provision 2 AND b. Was my student absent due to a COVID-19 isolation or quarantine? 2. If the answer is yes to BOTH of the questions (a and b) above, your student qualifies and you should contact your child's school for an application. 3. Return/submit the completed application (either via google form or paper application) to your child's school by July 29, 2022. 4. Await processing and receipt of P-EBT card (could be a several weeks)

P-EBT Information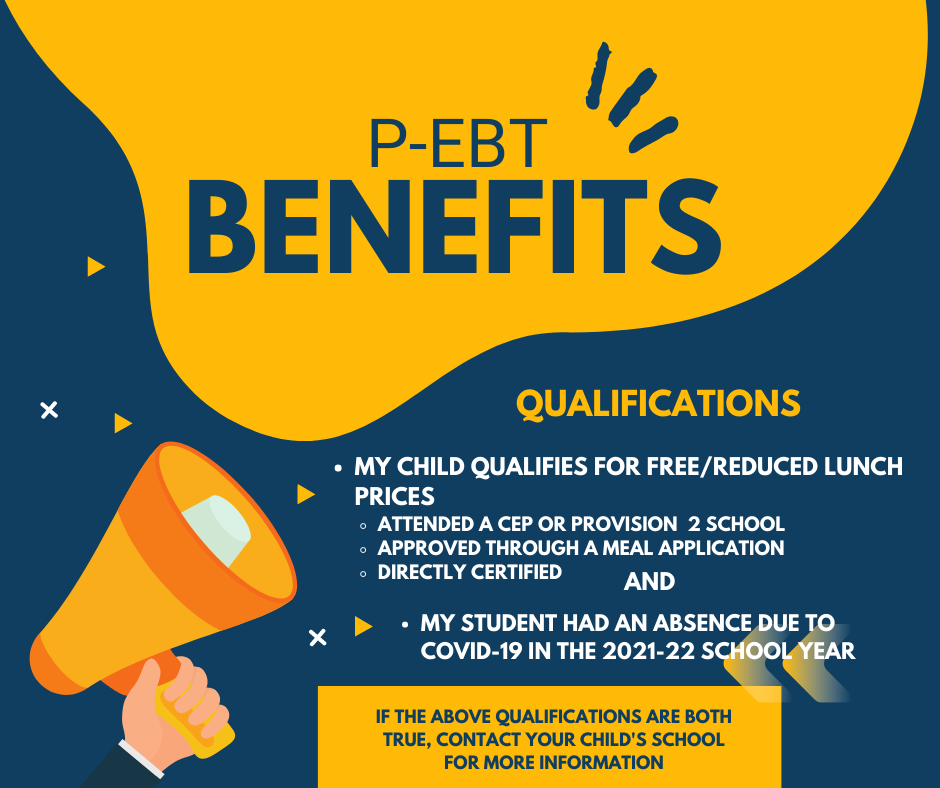 Had a great day hosting schools from the Arch Ford Cooperative for Illustrative Mathematics (IM) Year 1 Training. Shout out to Hailey Cockerham, Sonya Cato, Karis Hudnall, and Rebecca Jones. These teachers helped support other district teachers in understanding IM. #ArchFordESC @ArchFordESC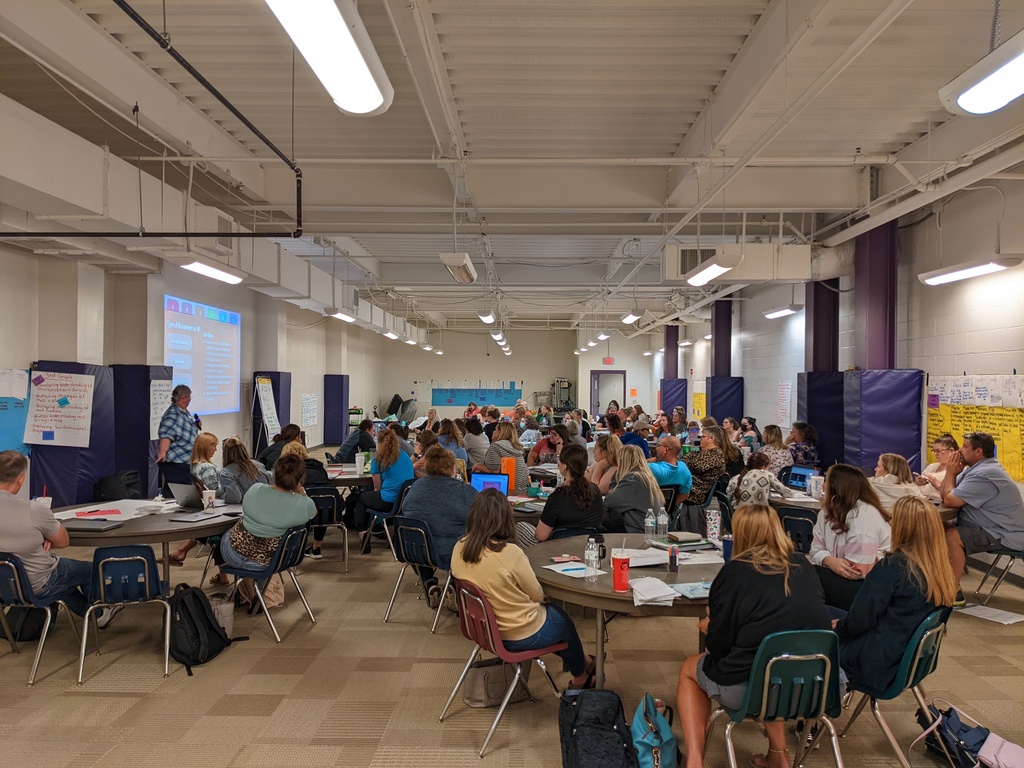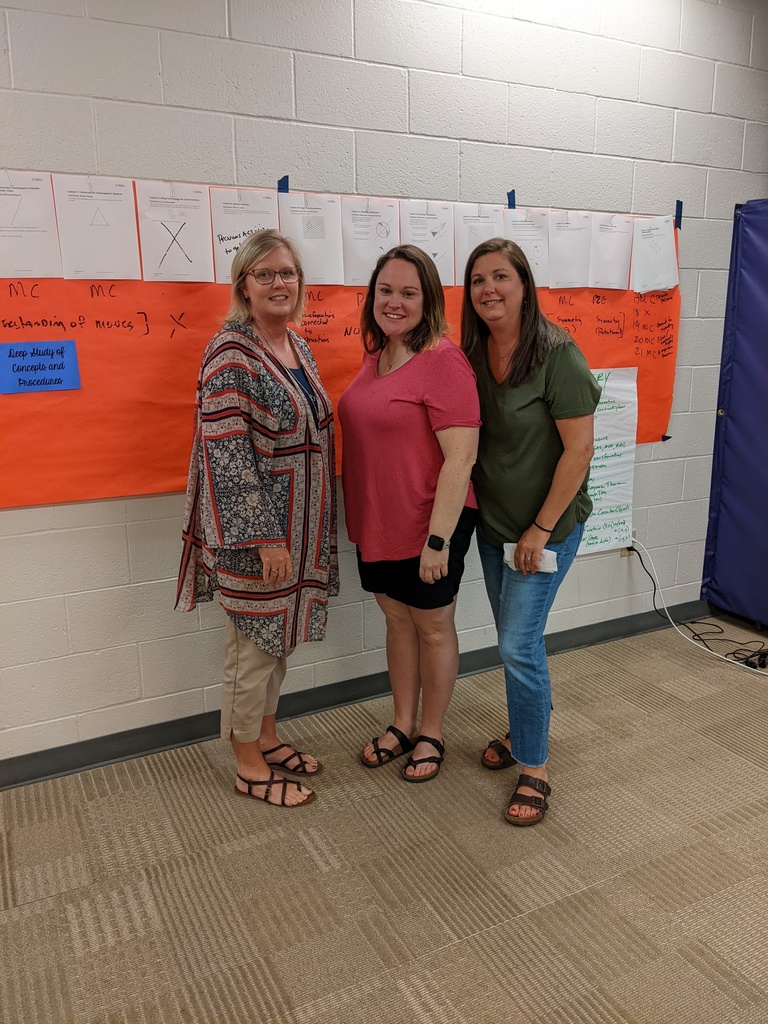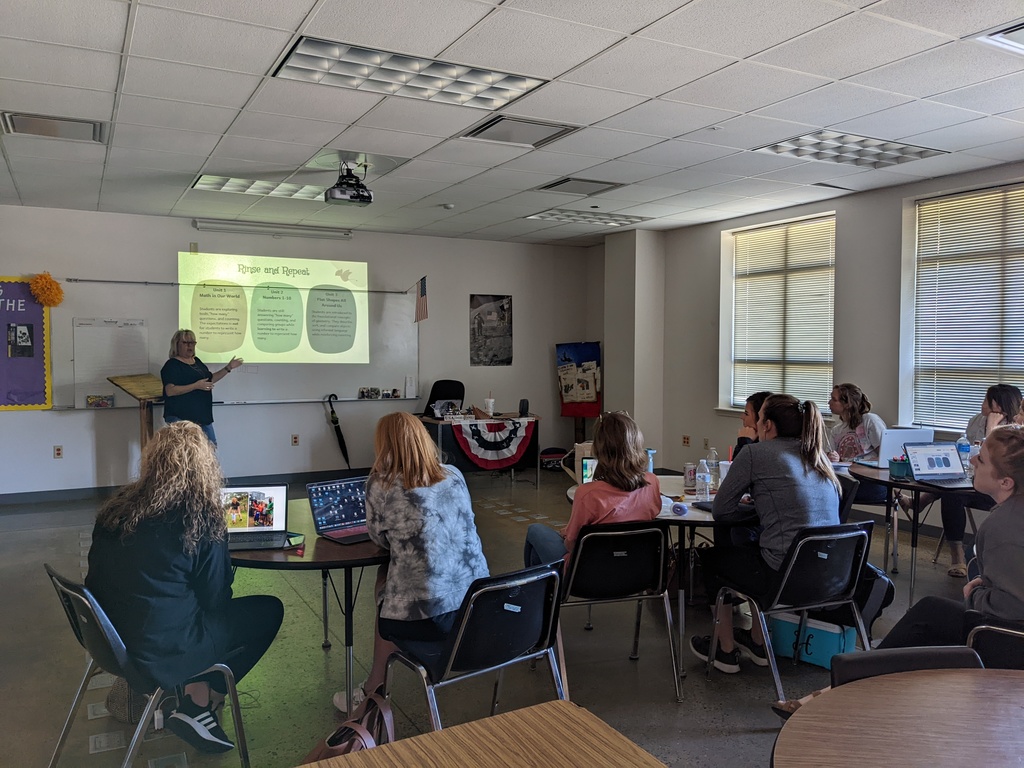 To clarify the previous message and survey, the "Monday School" that was mentioned earlier is not a requirement for students. When discussing calendar options before approving the 4 Day Calendar, the most common concern from parents was related to lack of care for children on Mondays. So Monday School is not required for students, but it will serve as an option for parents who have a need for their children in grades K-6 to attend on Mondays when school is not in regular session. Hopefully this helps clear up any confusion from the previous message that went out.

Mayflower School District is currently planning staffing and programming for "Monday School" for the 2022-23 academic year. To help us most accurately plan, please complete this brief survey:
https://forms.gle/N4CfbsPFJmtfERyH9
Thank you for your time. We hope you are staying cool during this hot summer!

Mayflower School District offices and campuses will be closed on Friday, July 1 and Monday, July 4 in observance of Independence Day.
3 Hour Bus Driver In-Service Opportunities July 11 2:00 PM @ Vilonia Schools August 3 10:30 AM @ Mayflower Middle School Storm Shelter August 3 3:00 PM @ Conway Clark HS Auditorium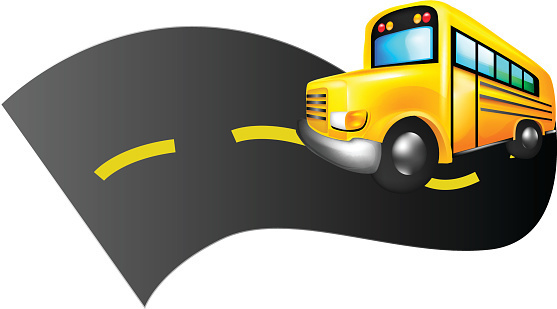 Food Bags can be picked up at Mayflower Elementary every Monday in June from 10:30-11:30. Please pick them up at the front door of the Elementary School! See you tomorrow!